Ciklum
Lucidchart allows Eduard to effectively communicate key ideas to technical and non-technical audiences alike, providing appropriate levels of detail and collaborating across teams.
Contact sales
Key benefits
COMMUNICATE CLEARLY

Eduard simplifies his text documentation by creating a visual version that helps eliminate miscommunication between technical and business teams. By using layers, he can vary the level of detail according to his audience.

SAVE TIME

By using Lucidchart instead of Visio, Eduard can create and update diagrams in minutes rather than days.

ADD DATA

Using data linking and conditional formatting, Eduard can combine the power of data and diagramming and have all key information in a single location.
---
INDUSTRY: B2B Services
SIZE: Large (2501+ employees)
ROLE: Operations
Ciklum is a global Digital Solutions Company for Fortune 500 and fast-growing organizations alike around the world. Our 3,500+ developers located in the Delivery Centres across the globe provide our clients with a range of services including Enterprise App Development, Quality Assurance, DevOps, R&D, Big Data, and Analytics.
As a business analyst at Ciklum, Eduard Voloshyn needs to be able to speak effectively to very different audiences. There are technical teams who are immersed in details, and there are also business stakeholders who want the big picture so they can quickly gain the level of understanding they need.
Eduard has found a universal language that speaks effectively to both audiences: visuals. He has also found his favorite solution for creating those visuals: Lucidchart. The solution's ease of use, advanced features, and collaboration abilities allow Eduard to easily and quickly create diagrams that communicate key ideas to technical and non-technical audiences alike.
Communicating processes clearly
When he needs to describe a business process, Eduard starts with a long, detailed text document in Google Docs or Confluence. He creates a use case in a narrative style, describing the scenario, the actors involved, and their goals. The use case he creates also includes all alternative sub scenarios. His next step is always to simplify the process by mapping it out in Lucidchart.
Using a Unified Modeling Language (UML) activity diagram or Business Process Modeling Notation (BPMN) shape libraries, Eduard can easily create a polished visual. He takes advantage of Lucidchart's layers functionality to include snippets of his narrative in the corresponding area of the process map. He can toggle layers on and off with hotspots so that users can see the basic overview or dive deeper into the details. 
As a result, he has two kinds of single process diagrams: a clear diagram according to strong notation (for printing and the agreement of requirements) and an interactive diagram for workshops and education sessions. In Eduard's opinion, these interactive visuals integrate the benefits of both approaches for modeling: visual and text.
After completing his diagram, Eduard uses Lucidchart's presentation mode to walk through the process with business stakeholders.
He says:
"My stakeholders prefer to see diagrams. Text is good for describing detail, which the technical teams like, and which I also like as a business and systems analyst. But when I'm presenting in a workshop, people like to see a diagram of the process so they can easily discuss it. If we want to dive into the details for some action or trigger, we can toggle a layer on interactively and see a part of the use case scenario in text. It is also useful for describing a lot of business logic in the UML state or activity diagram (State machine)."
The diagram helps Eduard receive the approval he needs faster and without forcing stakeholders to read long documents—a win-win situation.
Next, the documentation is shared with developers. While the stakeholders prefer the broad overview, developers use the diagram's additional functionality to review the technical details and gain the context they need to do their jobs correctly.
Eduard explains:
"Having a diagram helps eliminate miscommunication between technical teams and business teams. Being on the same page reduces risks and miscalculations in efforts and expectations."
Saving time
Using Lucidchart's ERD import, Eduard can import SQL data into Lucidchart to easily build an ERD without all the manual labor. He can create his diagram in 10 minutes—a task that used to take him days to complete manually in Visio.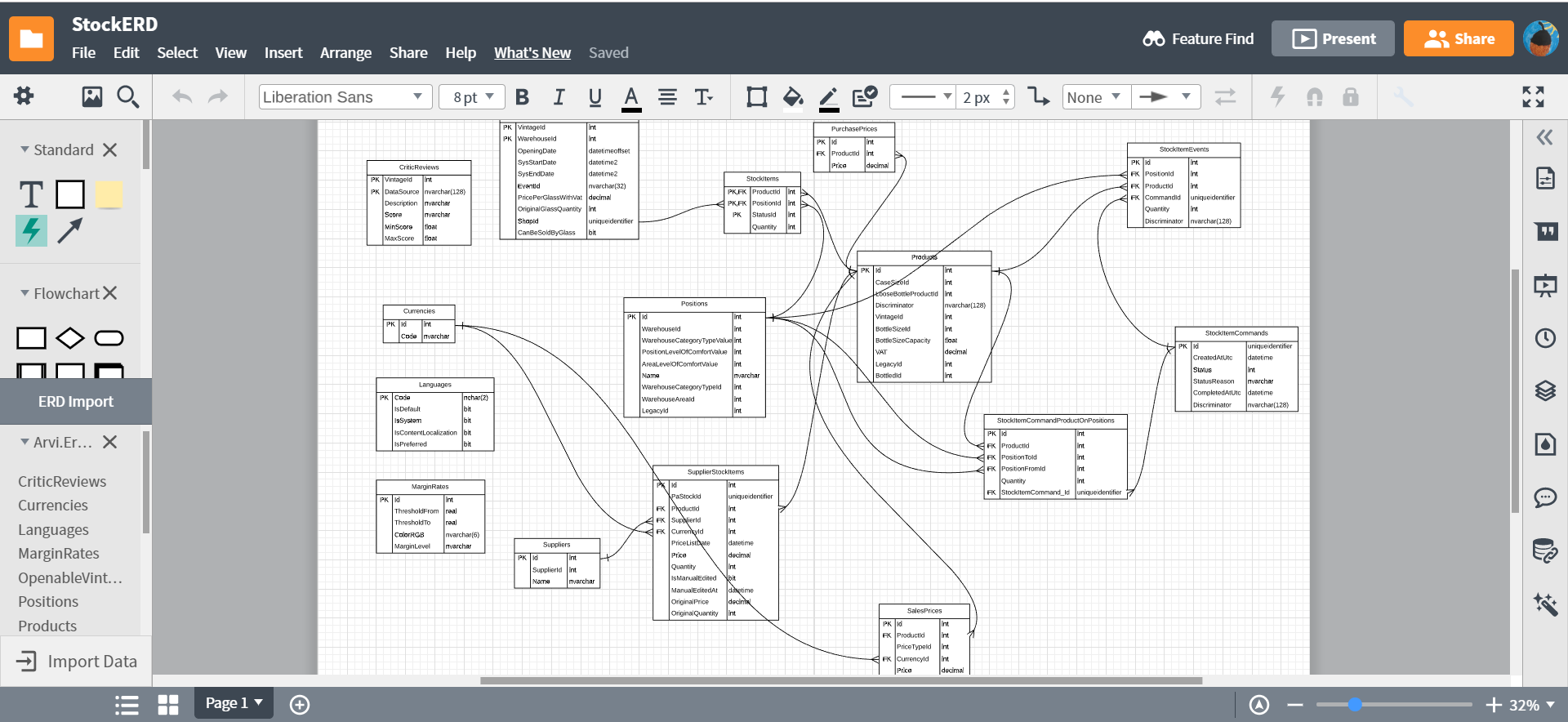 Eduard also saves time when he has to make changes to a diagram. With Lucidchart, he can make changes on the fly so that people always have the most up-to-date diagrams. With Visio, making changes was cumbersome and could leave people waiting for the finished product.
"I can change my diagrams online and all stakeholders can see the changes without delays, regardless of whether it's on a web browser, in Confluence, or in Lucidchart's presentation mode."
Presenting user stories
Eduard also relies on Lucidchart for mapping user stories, which help everyone to understand the decomposition of system functionality, identify holes in the proposed solution and plan sprints or releases. Lucidchart's data linking features simplify this process. He exports user stories from his task management system to a Google Sheet, and he then links the Google Sheet to his diagram. Using conditional formatting, he can indicate the priority and status of development and potentially separate user stories for feature teams. 
Eduard's visuals bridge the gap between technical and non-technical so that everyone has the information they need to succeed in their roles. And that's just the beginning. Eduard continues to discover new use cases for Lucidchart.
"If I have a choice, I choose Lucidchart. It's a flexible tool with a great set of functionality."