Keep Jamming with Lucid
Hey, Jamboard users. Move your next Jam session to the Lucid Suite and get two applications in one: Lucidspark for virtual whiteboarding and Lucidchart for intelligent diagramming. Contact sales to learn about our special offer for new Enterprise customers.
The most used visual collaboration platform
More than 60 million users worldwide, including students and educators, collaborate with Lucid. They include knowledge workers, business leaders from the largest enterprises, K-12 schools, and higher education institutions.
Go to The most used visual collaboration platform
Learn more
Lucid is the peanut butter to your Jam
We know you loved Jamboard for its whiteboard capabilities, but let us introduce you to the next level of whiteboarding, combined with intelligent diagramming. Lucid is where you can bring your ideas to life with easy-to-use features, unmatched intelligence, and end-to-end visual collaboration for everyone.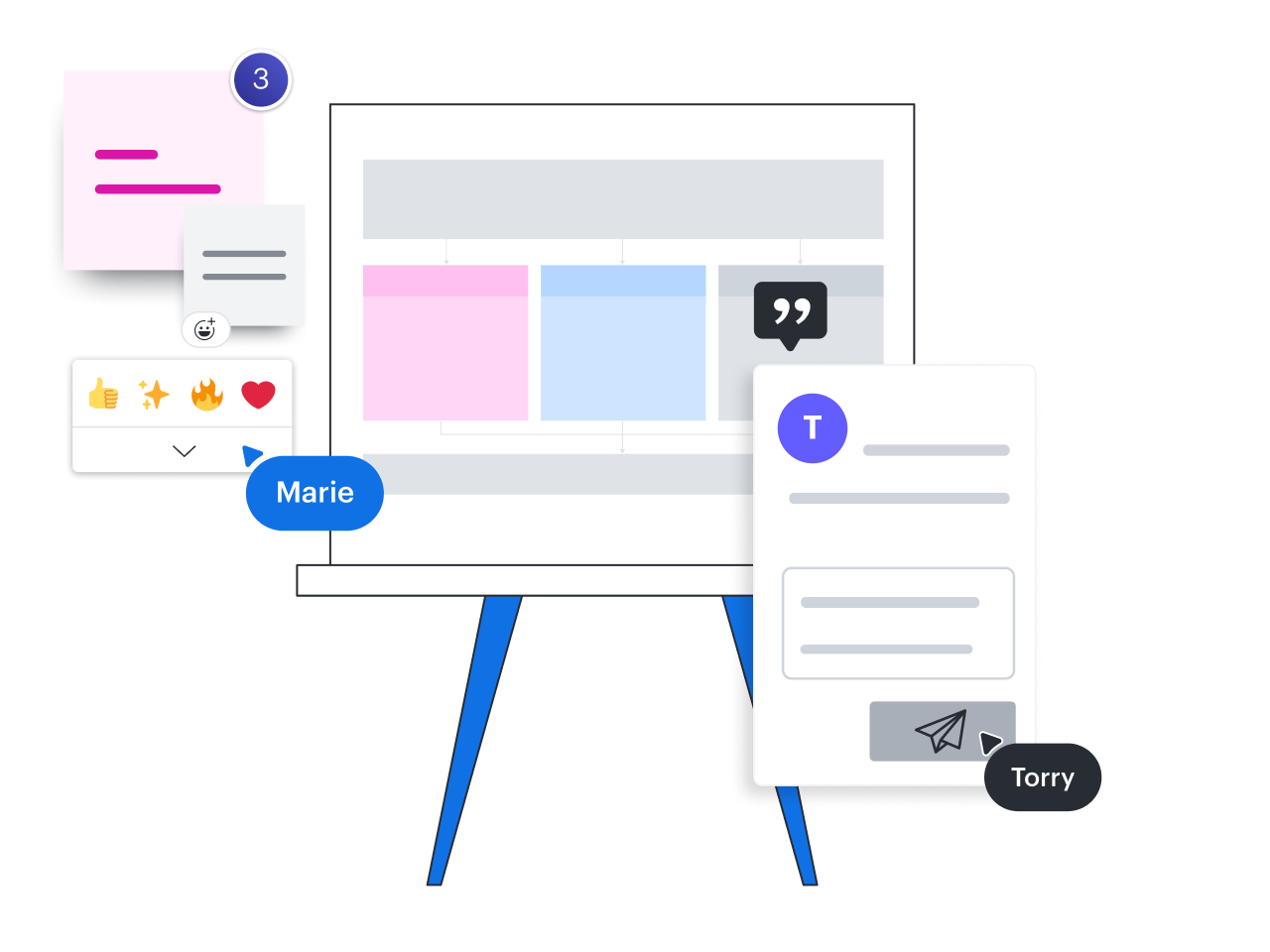 The power of visuals in the classroom
The Lucid for Education Learning Suite is the perfect next step for anyone using Jamboard in education—from kindergarten to college. It has hundreds of customizable templates and gives educators controls for managing student interactions.
Learn more
Features designed to boost collaboration and clarity
Lucid provides all the Jamboard features you know and love, like sticky notes, freehand drawing, and shapes. But it includes additional capabilities to keep teams in sync, including comments, Visual Activities, Collaborative AI, voting, and more.
Learn more
Ease of migration
Make a hassle-free switch from Jamboard to Lucid. Millions of users have switched to Lucid using our proven migration process that lets you keep your ideas flowing. Don't lose your work or your team's momentum on projects.
Privacy and security
Ensure the privacy and security of your data with Lucid policies and compliance certifications (such as SOC2, PCI, and Privacy Shield) designed to safeguard all users, with special controls for education.
Learn more
Integrated with and recommended by Google Workspace
Leverage integrations across Google Workspace apps, including Google Meet, Docs, Sheets, Slides, and more. Lucidchart is recommended for Google Workspace based on compliance with Google integration standards and security requirements.
Free for education, more value for enterprises
Consolidate with one vendor to replace multiple tools in your tech stack. Lucid costs nothing for students and educators, and our Enterprise offering saves customers an average of one-third on licensing.
"The level of engagement in my class since I switched to Lucid, I mean, it won me teacher of the year. My students now come to class expecting to engage with each other, and Lucid is the tool we use to do it."
Dr. Ashley King, Lecturer, University of Tennessee
"Lucidspark has been a valuable tool for not just brainstorming, but helping us to design and strategize solutions quickly and with better communication. The tool is simple, easy to learn and use, and makes you look like a wizard even if you don't feel very magical."
Greg Williams, Learning Experience Leader, Weave
"The biggest benefit of Lucidchart is being able to share and work on diagrams in real time as a group. Lucidchart is a way to visually represent information. It helps us get different kinds of learners on the same page. It's always powerful to have a visual."
Mathew Wolber, Director of IT Infrastructure, Bandwidth
More resources to help you evaluate the Lucid Suite
The Lucid Suite checks all the boxes for visualizations that support brainstorming and building.
Buyer's guide: How to evaluate visual collaboration platforms
Learn how visual collaboration capabilities can help accelerate key initiatives and get a checklist for choosing the best platform.
Get the guide
Lucidspark template gallery
Search ready-to-use templates for hundreds of use cases. Visualize, share, and document any idea faster.
Explore templates
What is intelligent diagramming?
See how advanced Lucidchart features, such as data linking, enable teams to see, align, and take action on their best ideas.
Learn more
Jamboard to Lucid Suite FAQ
Bring your Jams over to the Lucid Suite and experience a new level of collaboration. Take advantage of a special offer for new Enterprise customers.
Talk to sales