Beyond the buzzword: What is visual collaboration?
Reading time: about 10 min
Visual collaboration, once representing a niche market, has emerged as the decisive solution to connect distributed workforces and supercharge innovation. As any emerging space that shows potential, the visual collaboration market is growing rapidly as more vendors jump on the chance to meet the increasing demand. 
But there's a problem: The industry has not agreed on a definition of visual collaboration. A quick Google search on "visual collaboration" returns hundreds of thousands of results, but the descriptions are either too vague (flexible, cloud-based environments) or too limiting (digital whiteboards) to capture the full scope of its meaning.
The lack of clarity around what visual collaboration is has created a sort of "free-for-all" space for vendors, with platforms whose capabilities vary drastically from each other all attaching to the new label. And for organizations looking to improve the way their teams work together, the ambiguous definitions have created a confusing space to navigate. 
It's time we stop treating visual collaboration like another buzzword. 
Visual collaboration, as some vendors define, can serve as a way to merely make work a little bit easier—or it can act as the engine that fuels innovation, scales agility, connects hybrid teams, and increases organizational efficiency. Who wouldn't prefer the latter?
What is visual collaboration?
Visual collaboration is a series of connected activities—from brainstorming ideas to mapping processes, diagramming systems, and more—that lead businesses toward constant innovation. Through the use of visuals, teams across the business can effectively communicate complex ideas and collaborate both asynchronously and in real time (usually on an infinitely scalable, shared digital canvas).  
And by collaborating visually, teams will organically develop a living blueprint of their business—a system of record of a company's ideas, plans, and designs. Teams can turn to this single source to understand how the business works, which is necessary to stay aligned, make impactful changes, and create new solutions that provide value to customers.
A few examples of visual collaboration include:
Here's the key: Visual collaboration should occur at every stage of the workflow—not only ideation, but making sense of ideas post-brainstorm with data and insights, understanding the business's current state, planning action items, designing and building projects—and then recording all of this in a shared space to iterate on.
Capturing the end-to-end workflow is the only way to create the comprehensive picture of the business needed to continuously innovate. But it's also what most of the current definitions of visual collaboration fail to account for. 
Don't be fooled: Visual collaboration is not just a digital whiteboard or visual management tool. It's more than a sprawling online canvas filled with colorful sticky notes, lines, and shapes. These definitions only account for part of a project lifecycle—but there's an opportunity to improve every aspect of a project, across hundreds of use cases, through visual collaboration. 
And companies that do enable visual collaboration broadly are rewarded: 82% of decision-makers reported that investing in a cohesive collaboration solution allows their organization to stay competitive and positions them as a leader in their industry, according to a Forrester Consulting study. 
Learn how to choose a visual collaboration solution that gives your organization a competitive edge by downloading the visual collaboration buyer's guide.
Get a copy
Example: Visual collaboration at every stage of a workflow
Imagine this scenario: A bank is building out a new mobile application. The process of building the application will be complex, likely involving hundreds of different people from teams spanning across the globe. How does visual collaboration fit into their workflow?
Step 1: Visualizing the current state. First, these distributed teams need a way to understand the current state of their processes, technology, and customer journey in order to know what they need to build to bring the application to market. They can use a visual collaboration platform to collaboratively diagram the current state of the business and quickly reach a shared understanding—working side by side from anywhere in the world.
Step 2: Brainstorming and ideation. Next, they collectively brainstorm the ideal customer experience and what needs to go into the new application to make that possible. Teams may pull in customer research or examples for inspiration to view in one shared space. By collaborating visually, individuals from different teams can give their perspectives, ensuring all ideas are surfaced. 
Step 3: Synthesizing ideas. Then, in the same platform, these teams can synthesize their ideas and prioritize which ones they want to move forward with. Through visual collaboration, the teams can automatically analyze the brainstorm in different ways until they have the insights needed to make decisions. 
Step 4: Planning the project with cross-functional teams. After they reach a consensus, the teams use the winning ideas to map out a new customer journey and build wireframes and prototypes.
From there, they can bring in more teams to align cross-functional efforts on other parts of the business that need to change, such as customer support and marketing. Teams across the organization can easily visualize processes, timelines, and dependencies to align on all the moving pieces needed to bring the changes to life.
At the same time, other teams can use visual collaboration to understand the current infrastructure and systems and determine what changes are needed to help run the new application.
Step 6: Continuously improving. Throughout the entirety of the project, teams across the business can use visual collaboration to communicate, work together, and adapt plans as needed. But the benefit doesn't stop once the application launches. The application they're building, and the documentation that supports it, are going to continue to change over time. By collaborating visually, these teams have naturally created a living blueprint of how the application works—and how they got there, including all the ideas and decisions made along the way.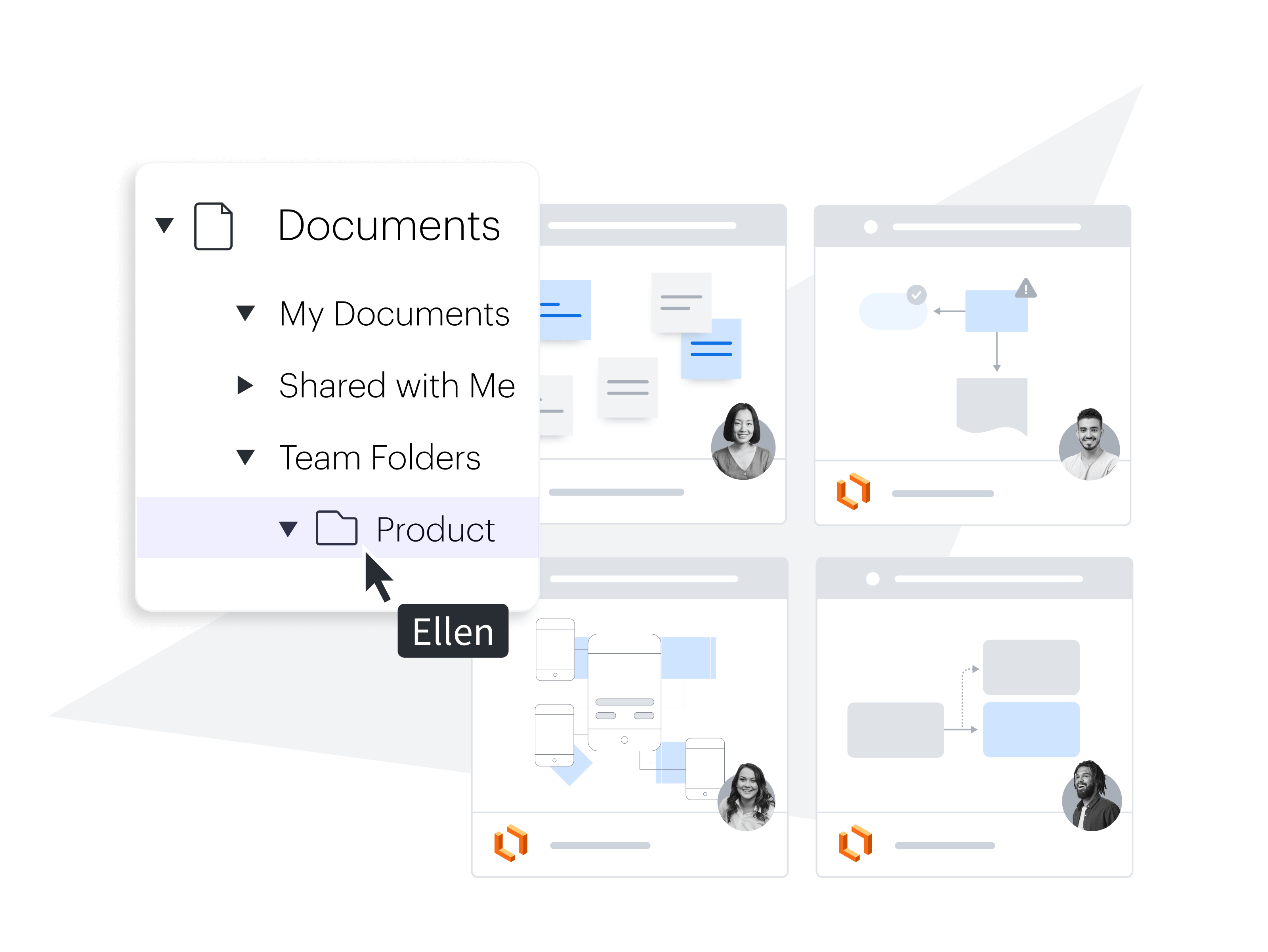 This living documentation keeps teams on the same page and helps new team members get up to speed quickly, so they can continuously improve the application over time. The best part is that the documentation is created and updated as a natural artifact of the team's visual collaboration. 
Defining qualities of visual collaboration
Any improvement in collaboration is valuable, but to truly lead the business towards constant innovation, visual collaboration must fit a few criteria.
Facilitates teamwork and communication
As hybrid and remote work becomes the norm, the ability to connect teams side by side on a shared canvas, from anywhere in the world, is one of the most important parts of visual collaboration. 
Visual collaboration provides a space for teams that are no longer in office together to share ideas, provide feedback, learn from each other, and solve problems. Teams can work more efficiently because collaboration is no longer limited to real-time discussion or slow emails—it happens asynchronously. 
Organizations can also diversify and democratize ideation through visual collaboration. Without physical restraints to collaboration, organizations can be sure they're bringing unique perspectives to any project (and employees have a more consistent outlet to share ideas). 
Visual collaboration should facilitate both real-time collaboration—with features like timers, laser pointers, voting, and color-coded sticky notes—and asynchronous collaboration through comments and guided content sharing. 
Brings clarity to complexity
You can't have visual collaboration without visuals. Using visuals to communicate is a well-known way to increase a team's ability to understand and retain information. Naturally, one of the fundamental qualities of visual collaboration is the ability to clarify complex data, processes, and ideas by distilling them into intuitive, easy-to-understand visuals.
There's a key component to this concept that's often overlooked: To move efficiently, visual collaboration should employ intelligent features and automation to help teams gain the clarity they need to jump quickly into action. By automatically visualizing complex data sets and synthesizing ideas, teams spend less time manually interpreting information and more time on the work that matters. 
Aligns teams around a single source of truth
Perhaps the most important aspect of visual collaboration is that it has the power to align teams across the organization in a way that hasn't been done before. Not only does collaborating visually create clarity in the moment, it provides a record of ideas, current state, project plans, and decisions that teams can refer back to at any time to make informed decisions. 
Visual collaboration platforms should integrate with popular technologies to simplify where important information lives and include a variety of pre-made templates to help teams standardize and organize projects.
When teams have the context needed to move forward, they can adapt to changes quickly, onboard new team members faster, deliver value more consistently and innovate continuously.
Benefits of visual collaboration 
The promise of visual collaboration is not difficult to grasp. As illustrated in the example above, visual collaboration has the potential to function as the cornerstone of how your organization gets work done. In fact, in a recent study, 69% of workers stated that visuals are extremely or very important for collaboration.
Organizations who enable proper visual collaboration experience the following gains: 
Increases efficiency and agility: By improving communication, clarity, and alignment, visual collaboration eliminates many of the inefficiencies that teams (especially remote or hybrid teams) face: slow project handoffs, manual data analysis, miscommunications, and versioning issues. By centralizing critical company information, team members can easily share knowledge and gather the context they need to work—and adapt their work—quickly and confidently. In fact, 30% of workers believe that visuals are the key to increased alignment and quicker task completion.
The result? Faster time-to-market and consistent value delivery amidst constant change. In other words, by increasing organizational efficiency and business agility, visual collaboration can act as an enterprise's competitive advantage in a complex world. 
Propels strategic initiatives forward: Most large-scale organizational changes—like migrating to the cloud, developing new products, or leading an agile transformation—involve cross-functional teams across the business. Visual collaboration is the unifying factor that bridges these silos and aligns teams around common goals, timelines, and deliverables.
Scales innovation: By collaborating visually, your organization will organically create a record of ideas—and the path to prioritizing which ideas to act on—that teams can trace back as a guide to make decisions. Through this innovation repository, teams have access to all the context they need to replicate successful decisions and iterate on ones that fell short. As a result, innovation becomes more consistent and scalable—even as new team members onboard who weren't part of past projects. 
The best part is that an innovation repository is formed as a natural artifact of collaboration, so teams don't need to spend any additional time on documentation. 
Increases employee satisfaction and engagement: Visual collaboration can be incredibly empowering for employees, particularly dispersed teams. Not only does visual collaboration create a more consistent touchpoint for connection—particularly for hybrid teams—it provides an outlet for employees to share their ideas and participate in decision-making, regardless of where they're working from or their collaboration style. 
And, when employees aren't bogged down with frustrating communication and manual work, they can focus on more satisfying and innovative projects. 
Choosing the right visual collaboration solution for your business 
As evident by the varying definitions of visual collaboration, not all platforms in this market are created equal. 
Many visual collaboration platforms provide a space to collaborate and brainstorm, but their diagramming and data analysis functionality is limited to static documents that must be manually updated and can easily become outdated. Or they provide basic data visualization but lack the flexibility needed to brainstorm ideas or plan projects based on that data.
In order to reap the full benefits of visual collaboration, keep the outcomes you're looking for front and center when evaluating platforms and don't settle for a tool that only gets you halfway through projects.
Visual collaboration is not just a buzzword—it's the key to aligning teams, accelerating innovation, and scaling major initiatives. And as more organizations look to adopt visual collaboration solutions, the right visual collaboration platform could just be the competitive edge your organization needs. 
To find out how to evaluate visual collaboration platforms, get the guide—complete with evaluation criteria and checklists.
Get the buyer's guide
Lucid
Lucid Software is a pioneer and leader in visual collaboration dedicated to helping teams build the future. With its products—Lucidchart, Lucidspark, and Lucidscale—teams are supported from ideation to execution and are empowered to align around a shared vision, clarify complexity, and collaborate visually, no matter where they are. Lucid is proud to serve top businesses around the world, including customers such as Google, GE, and NBC Universal, and 99% of the Fortune 500. Lucid partners with industry leaders, including Google, Atlassian, and Microsoft. Since its founding, Lucid has received numerous awards for its products, business, and workplace culture. For more information, visit lucid.co.
Bring your bright ideas to life.