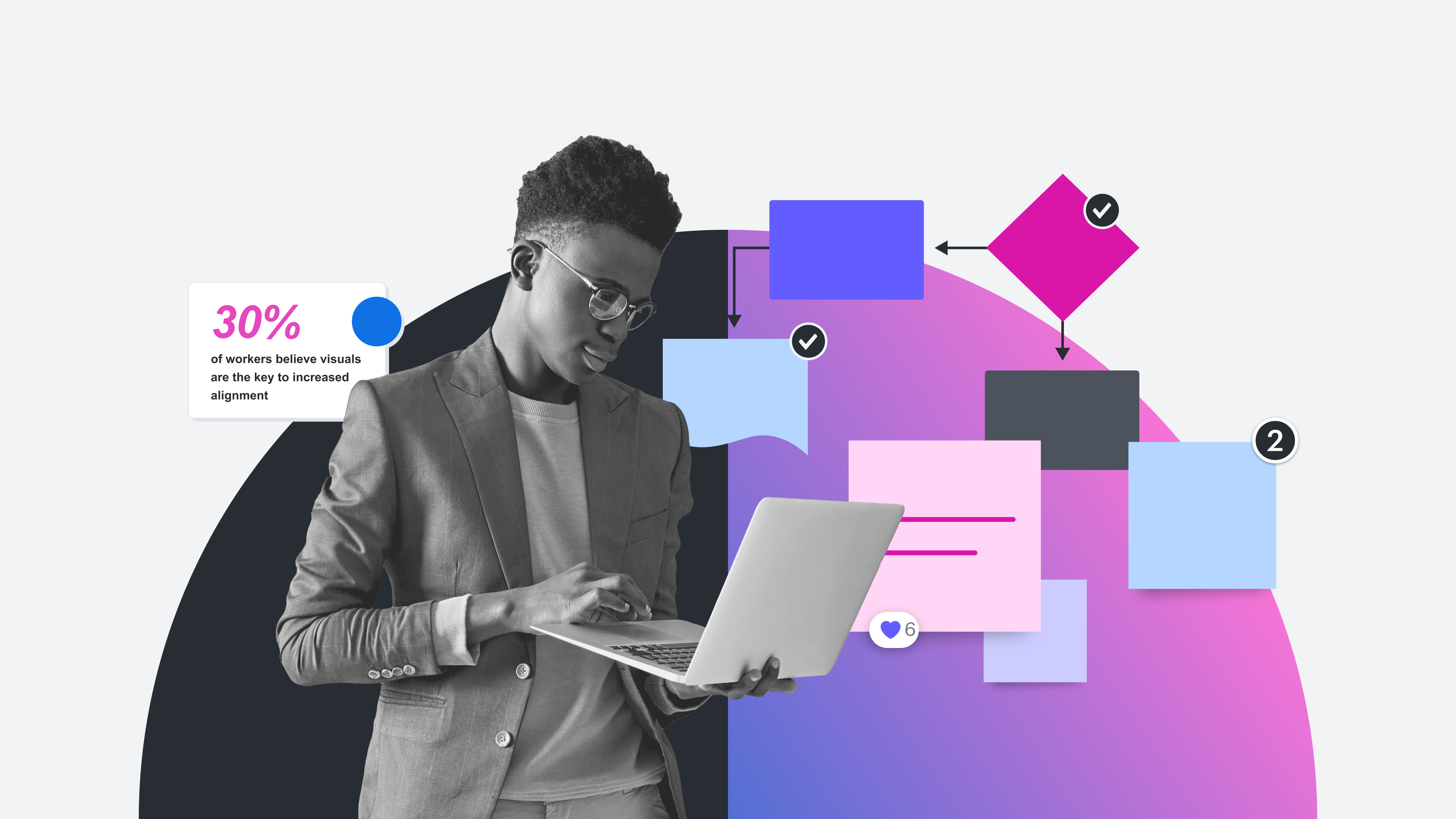 Bridging the alignment gap: Survey uncovers key factors affecting organizational productivity
Reading time: about 4 min
Many organizations are struggling to maintain productivity in complex, hybrid work environments. But the problem runs deeper than that. To understand just what challenges are impacting organizations most today, Lucid commissioned a workplace alignment survey of ~2,200 knowledge workers globally.
And we found that more than a productivity problem, many organizations have an alignment problem, which in turn has a significant impact on innovation, productivity, and employee satisfaction.
The challenge and consequences of alignment
The survey reveals that many organizations struggle with alignment. Out of the respondents who expressed concerns about project deficiencies, a staggering 37% believe that their teams lack alignment, indicating that organizations need to address this issue. Ineffective communication, which further contributes to poor team alignment, was identified as the top barrier to innovation, followed by poor collaboration and information lost between meetings.
Another significant revelation from the survey is that some of the challenges around alignment come from people not being able to find the information they need. Data showed that people spend an average of five hours per week searching for information related to their projects. Shockingly, almost half of organizations (47%) lack a standardized way to share documents across their tech stack, leading to gaps in information sharing. As a result, 45% of organizations find that not all relevant teams are kept in the loop, hindering alignment and impeding progress.
The consequences of poor alignment are detrimental to both businesses and their employees. Nearly half of the respondents (47%) reported that some projects fail to meet their objectives due to alignment issues, so not surprisingly, one in two respondents (50%) ask for moments to align before embarking on a new project, and46% express annoyance or frustration as a result of misalignment. Even more concerning is that talented staff members are leaving organizations due to alignment problems (36%).
Potential solutions
If many are feeling the pain of poor alignment, what can organizations do to get their teams on the same page? The responses from our workplace alignment survey hint at the areas where organizations can improve.
Evaluating tech stacks
Ironically, part of the problem is the extensive amount of productivity applications that organizations have adopted. Nearly half of the respondents (45%) use five or more productivity applications at work, and 42% of workers find it frustrating to have too many tools at their disposal. Rather than introducing additional complexity to their tech stacks, organizations should reevaluate their existing tools to ensure those applications effectively facilitate collaboration practices, promote alignment, and streamline workflows.
Making documentation and brainstorming sessions more effective
Respondents identified better documentation of project goals and progress (45%) as a key factor in improving team alignment. Clear documentation ensures that everyone is on the same page and reduces confusion. Additionally, effective brainstorming sessions with clear next steps (34%) foster alignment and accelerate decision-making processes.
Leveraging the power of visuals
The survey results clearly indicate that visuals play a vital role in enhancing collaboration and improving team alignment. A resounding 69% of respondents stated that visuals are extremely or very important for collaboration, and 30% of respondents believe that visuals are the key to increased alignment and quicker task completion. It's clear that visual collaboration can empower teams to communicate complex information quickly, giving everyone a shared understanding of project goals and progress.
Final takeaways
The survey findings paint a clear picture of the challenges organizations face in achieving alignment in a hybrid work environment. Ineffective communication, information gaps, and reliance on excessive tools hinder productivity and satisfaction. 
However, there is hope for teams hoping to get on the same page and accelerate innovation: The solution lies in embracing visual collaboration as a means to drive team alignment. By leveraging visuals, organizations can improve documentation practices, streamline brainstorming sessions, and foster a shared understanding of goals and progress. With better organization and project management practices that prioritize visual collaboration, businesses can overcome the alignment problem and unlock their true potential.
As a solution to these pain points, Lucid recently launched new capabilities focused on helping teams align and build faster.
Learn more
Methodology
Researchscape conducted an online survey, commissioned by Lucid Software, of 2,196 knowledge workers from April 21 to May 2, 2023, and screened from a population of 5,829 full-time staff, 25 to 64 years old, in organizations with at least 10 employees to over 10,000 employees. 
Respondents per country:
United States: 1,053
United Kingdom: 317
Netherlands: 258
Germany: 310
Australia: 258