How Lucid helps you make decisions with confidence
Reading time: about 6 min
As we've learned here at Lucid, the journey of bringing an idea to life hinges on a critical factor: decision-making. Specifically, the ability to make fast and educated decisions with confidence. When teams can act quickly and effectively, they gain significant competitive advantage. 
In an organizational setting, inefficient decision-making can be costly. According to a survey of more than 1,200 global business leaders, inefficient decision-making can cost a Fortune 500 company approximately 530,000 days of managers' time in a year. 
Unfortunately, it's all too easy to make inefficient decisions. There's an abundance of information in our modern age and many of us don't have the tools we need to synthesize the data. Even if we can manage to organize the information, getting the right stakeholders involved and aligning on strategies is challenging. 
Lucid aims to streamline decision-making to clarify the process of taking an idea and turning it into reality.
How Lucid accelerates and informs decision-making
We created Lucid with a clear goal—to help visionaries, administrators, executives, technical teams, and more come together to build the future. By providing a visually collaborative space that supports the entire creation life cycle, we've paved the road for businesses to execute their most innovative ideas. 
Other collaboration tools may help facilitate brainstorming sessions, but that's it. Lucid products support you through the entire process—from brainstorming to planning to designing to execution.
Here are some of the ways Lucid's products help teams make informed decisions with confidence.
We centralize the resources required to make decisions
Creating documentation in Lucid naturally forms an innovation repository—a centralized place for ideas. Innovation repositories come with a long list of advantages, but one of the most noteworthy is that your business now has a single source of truth. This prevents searching through numerous tools and resources to inform your decisions and speeds up the process altogether as a result. 
On top of a company-wide single source of truth, you can use Lucid to create Team Spaces. Team Spaces are central hubs of information specifically designed for teams to align and provide the most up-to-date information they need to initiate work and coordinate progress. You can even embed other resources into your space (and any Lucid document in general) to centralize all information in one place.
Align your teams with Team Spaces
Ready to create your own space?
Get started now
We help teams visualize the impact of a decision
Decision-making is reliant on communication, namely the ability to effectively articulate ideas. Talking through the factors related to a decision is helpful but not always possible with many stakeholders involved. Plus, it can be challenging to express the relationships between different elements, dependencies, priorities, and potential risks involved. 
Written communication is great for asynchronous collaboration, but spreadsheets are often bloated and cumbersome to scroll through. When decisions are complex, condensing information in a spreadsheet might be more trouble than it's worth. 
The solution to both of these problems is visuals. Visuals can help teams weigh options in ways that verbal or written communication cannot, especially when dealing with the complex decisions that often accompany organizational dynamics. Lucid was built on this foundational principle of visualization.
Our pre-built template library makes it easy to dive right into a real-time or asynchronous workspace to visualize the impact of any decision. For example, our SWOT analysis template is perfect for easily identifying all the strengths, weaknesses, opportunities, and threats that might factor into the decision-making process. 
Need something more actionable? Try out our decision-making matrix template to avoid decision fatigue and get closer to your action plan.
One of the biggest problems with decision-making is that most of the time you're not just making one decision. You're causing a ripple effect. A single decision could impact other systems (like implementing new technology), alter timelines (if tasks have to move or priorities have to shift), or influence other teams. 
To gain the perspective you need to grasp the ripple effect, you can map out your current and future state of processes and architectures. This process is incredibly helpful, especially when done in a visual software like Lucid so that you can deeply understand the relationships between different systems, tasks, projects, teams, etc.
We create the environment to capture everyone's feedback
Decisions that involve multiple stakeholders or team members can be some of the hardest ones to make—you want to ensure every voice is heard to make an educated choice. As many teams have already found, meetings and emails alone aren't the most effective way to collect feedback and reach alignment. 
Visual collaboration provides a space to capture all stakeholders' input in real time or asynchronously. This degree of flexibility makes Lucid the ideal environment to capture every team member and stakeholder's feedback so that every voice is heard. 
Lucid has several features that make it even easier to capture all voices. You can use Frames and Paths to direct a stakeholder's attention to the specific content they need to weigh in on, or even use @mentions in the comments. Voting and emoji reactions can help garner a quick pulse on what ideas are resonating with a group, as well.
You can also bring a tactile sense of enjoyment back to your collaboration sessions with Visual Activities. Visual Activities provide an easy and fun way for organizations to gather and aggregate a group's input—whether that's product feedback, timelines, workload, or anything else. Simply drag a visual activity from the gallery in the sidebar and drop it into your document. Then, invite your team members to participate. It's that easy.
You can edit Visual Activities or create custom ones that suit your needs. Visual Activities show where there is a consensus and where there are dissenting opinions, which are crucial to hear out before making a decision.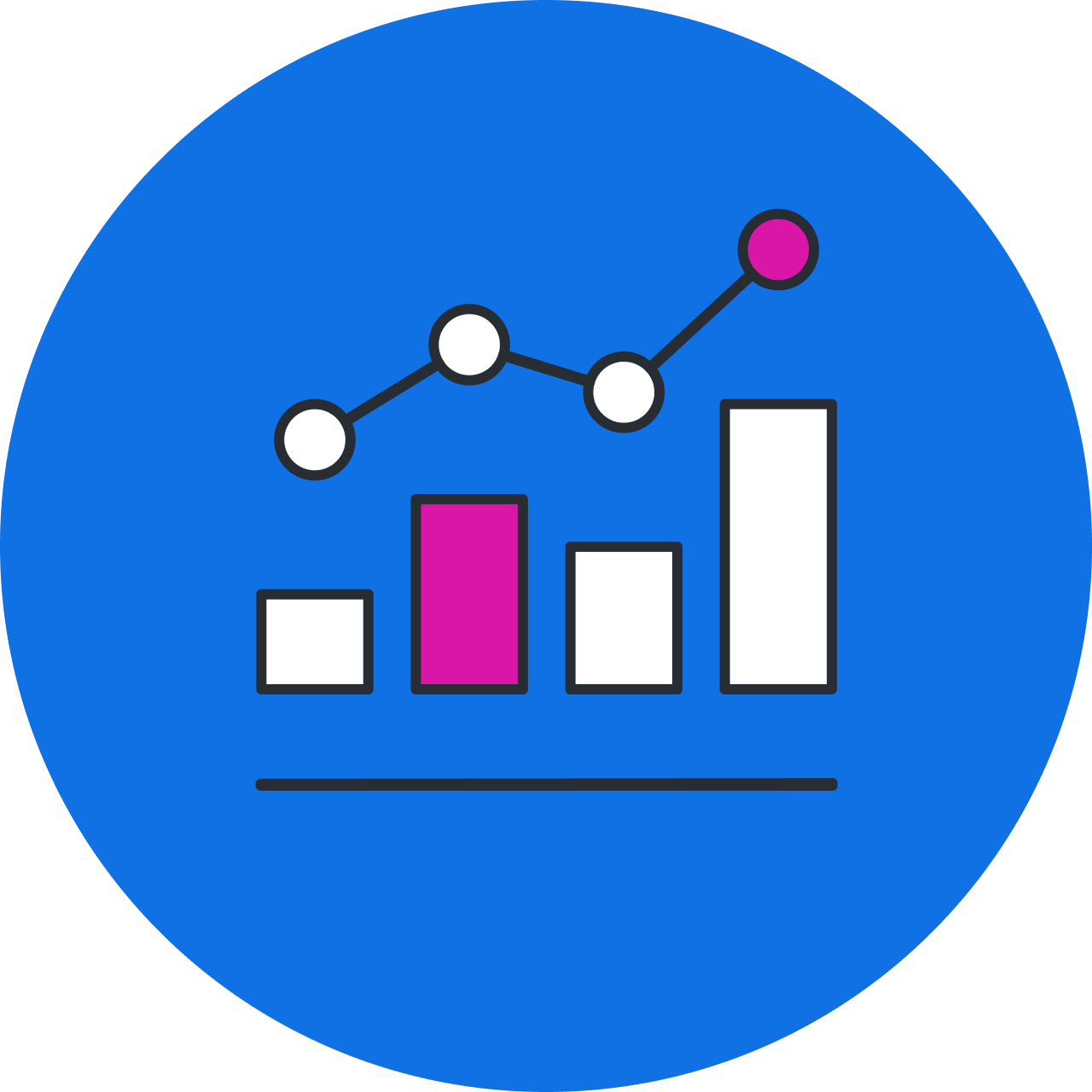 Freshen up your meetings with Visual Activities
Visual Activities can refresh your entire decision-making workflow, and getting started couldn't be easier.
Learn more
We help make sense of data needed to make informed decisions
Data is crucial for decision-making, but we must understand and interpret it correctly. When our data resides primarily in spreadsheets or other record-keeping systems, it becomes challenging to comprehend and extract its significance.
Lucid addresses this issue by automatically visualizing data and maintaining up-to-date visuals linked to the original record-keeping system, alleviating this common pain point. A great example and use case of this functionality would be with HR teams trying to make decisions involving org structures or hiring. Visualizing an org chart or Scrum team, in particular, goes a long way in expediting the decision-making process by providing clear and intelligent visuals.
Lucid's employment of dynamic shapes makes it easy to build custom dashboards that always display up-to-date information. You can use dynamic shapes to build performance or progress dashboards for marketing campaigns, sales KPIs, OKRs, or any other project.
Technical teams often need high-quality visualizations of data to understand technical systems, such as importing a database to generate an entity relationship diagram (ERD). Lucid is perfect for R&D teams or other technical teams needing to grasp complicated processes and visualize critical relationships to execute future infrastructure visions.
Make faster and more confident decisions with Lucid
Lucid is a proven and powerful ally in bolstering decision-making processes throughout the entire project life cycle. In fact, 85% of Lucid's users state that Lucid helps them be more agile and iterate faster. Through seamless integration into each phase of development (ideation, planning, designing, and execution), Lucid empowers teams to accelerate their decision-making and feel confident in their implementation.
Get in touch
We've dedicated our products to making your life easier, bringing teams together, and helping you build the future.
Contact us