The IT team's toolkit for effortless documentation
Reading time: about 6 min
Documentation is often complicated and time-consuming—increasing the burden on IT teams that are already pressed for time. And with technology constantly changing, unless you have real-time updates and persistent visibility into your documentation, it will become obsolete almost as soon as you've finished recording it.
So it's no wonder many feel it's simply not worth the hassle.
But this mindset can hinder your productivity and success. Without standardized processes and a clear history of work done, IT teams can end up reinventing the wheel over and over again.
Here at Lucid, we believe there's a better way. 
Make documentation effortless
Check out our free e-book on rethinking documentation to learn how we make the process effortless, continuous, and efficient.
Read more
With Lucid's visual collaboration platform, you can create living documentation of technical processes that are visible, digestible, and always up to date.
Below, we've compiled a toolkit of IT documentation templates to get you started. Click any IT template to open in Lucidchart or Lucidspark. 
Templates for system and network documentation
Documenting the current state of your system and network allows you to determine a baseline and evolve your architecture over time. You can also visualize the future state of your network and systems, which is valuable for communicating with stakeholders and collaborators.
Here are some templates to get you started:
Current vs. future state flowchart
Use this basic template to visualize and analyze your current and future processes. Easily switch between current and future state views using the page tabs or by adding links directly to your templates for quick navigation.
Network diagram example
Use this example template to customize your own network diagram or visualize the basic components of a generic network design to understand the flow of information in a system.
Looking for a specific network infrastructure? You can find more templates here.
System landscape
Get a bird's eye view with this system landscape template. Customize the template to show the products in your implementation and get broader context for your technical solution.
Network security diagram
Visualize your network security components and the important relationships between them with this network security diagram template. You can use this template to better understand a basic network security system or customize it to your specific use case.
Templates for documenting standard operating procedures (SOPs)
A process tells you what to do, and a SOP tells you exactly how to do it. That level of precision is essential when creating IT documentation.
Here are some IT templates to help you write SOPs:
Process map 
Use this process map template to outline your project, define your process, and chart your plans toward a specific goal. Lucidspark makes it easy to add sticky notes, tag team members to alert them to specific roles or assignments, and color code your steps for an easy-to-follow process from start to finish. 
SOP flowchart
Bring the pieces of your procedure into focus with an SOP flowchart. Use this template to visualize and document your processes step by step. You can also use Lucidchart's layers feature to overlay different elements on your diagram for added context.
Procedure diagram
Similarly, a procedure diagram can help you outline specific processes step-by-step with sub-tasks below each main requirement. This template is ideal for documenting detailed procedures and training new team members.
Process improvement flow
Use both Lucidchart and Lucidspark to analyze, update, and improve your current processes. Lucid's universal canvas makes it easy to create a process in Lucidchart and then switch over to Lucidspark to brainstorm improvements, all without having to leave your canvas.
Templates for incident and problem management documentation
Issue management is critical to IT teams and their daily workflow. Teams need to document incident reports detailing the nature, impact, and resolution of issues. Then, they have to conduct root cause analysis to investigate problems.
Here are a few templates to help with incident and problem management documentation:
Problem management process flow
Prevent issues by managing the entire lifecycle of a problem. Use this problem management process flow to better detect and document incidents, establish new steps to prevent future problems, and improve diagnosis in the future.
Incident management high-level process flow
Handle service disruptions efficiently and improve your management lifecycle with this incident management high-level process flow. This IT template helps you map out procedures for incident management and implement incident management best practices.
Issue management log
Keep track of current and closed issues with this issue management log template. Document new issues, assign and track who is responsible for each issue, and organize and prioritize issues based on type or severity.
Risk impact scale
Use this risk impact scale template to manage risks more effectively by understanding the scope of their potential impact on your IT systems and/or the organization. Break down risks by category and define the consequences so you can prioritize the risks appropriately.
Templates for project management documentation
Whether you're working on project charters, scope documents, plans, timelines, or training materials, Lucid can help you create visual documentation that's engaging and updated.
Here are some templates to get you started:
IT project management system procurement process
Considering a new software or technology to add to your IT stack? Use this template to define the steps required to make a decision. This process flowchart will also help you analyze your current procurement process and make improvements.
Scrum board 
Keep your sprints on track by organizing tasks and responsibilities on this scrum task board. Use color coding to track roles and assignments, write tasks on sticky notes to easily move them into the right status column, and visualize the overall team workflow from start to finish.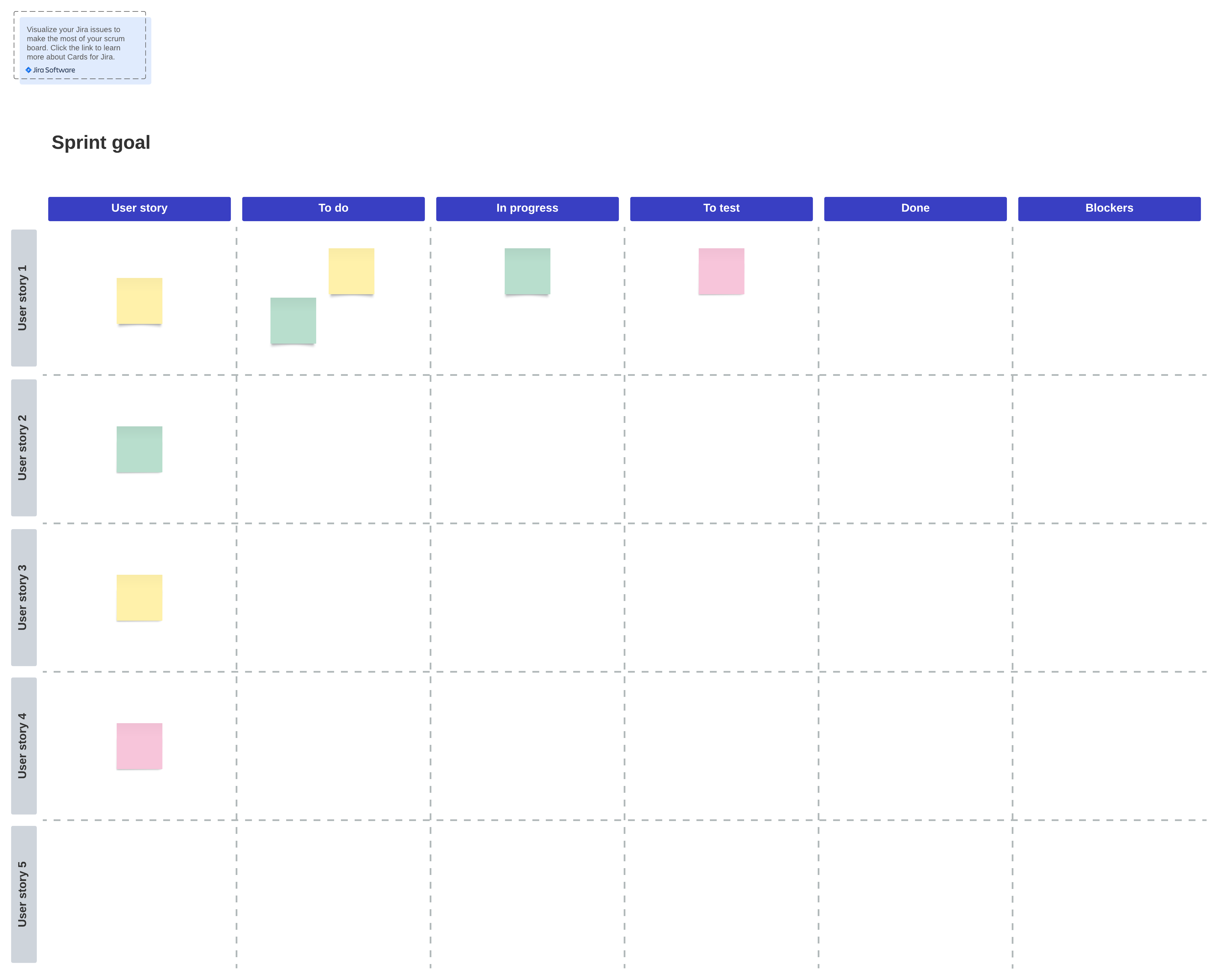 Communication plan 
With so many moving parts to manage in IT, it's important to keep everyone in the looop with a documented communication plan. Use this communication plan template to customize your own plan of action. Identify key stakeholders that need to be kept informed, track preferred communication channels, and attach notes for additional context without cluttering the document.
Project dashboard
Monitor all the key elements of your project at-a-glance with this customizable project dashboard template. Import your data directly into Lucid's smart containers so you can track project progress in real time.
Work smarter, not harder with intelligent documentation
Documentation isn't always exciting—but with Lucid, it can be a whole lot easier. 
Lucid's dynamic canvas and extensive shape libraries make it easy to customize your documentation to your specific needs. Visualize how your resources and time are being used, identify where you can improve, and monitor progress all in one place.
From process flows to communication plans, Lucid's suite of IT documentation templates can help teams:
Keep better records.
Track progress more efficiently.
Provide clear context for all stakeholders involved.
Smooth out complex topics using visuals.
Streamline the incident and problem management process.
Visualize their system and network architecture.
Learn more about how Lucid can help your IT team make documentation an effortless and efficient process.
Get in touch