Team Spaces tips and tricks: How to set up your space to maximize collaboration
Reading time: about 7 min
Chances are, your team is spending way too much time trying to find the information they need to do their job.
A recent survey from Lucid found that workers spend an average of five hours a week searching for project-critical information, with over a quarter of respondents reporting spending more than 10 hours a week digging for this info. 
It's time to put an end to this productivity-stealing madness. With Lucid's Team Spaces, you can give workers time back in their day for work that matters.
Team Spaces, part of the Lucid Visual Collaboration Suite, acts as your team's virtual home base. It's your own, flexible space to:
Create a document repository of all internal and external resources your team needs.
Centralize messaging and communication to coordinate progress.
Launch into work, make decisions, and stay aligned from start to finish. 
That's right—no more searching across tools or tabs to find relevant information. You can use Team Spaces as a hub for your immediate team or cross-functional project teams. 
No matter which teams you work with, we've compiled a few tips for organizing your space to maximize team alignment, engagement, and efficiency.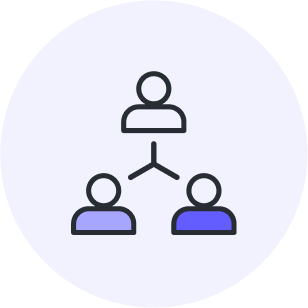 Course: How to use Team Spaces
Get step-by-step instructions on how to use Team Spaces in this video tutorial. 
Check it out
What should you include in your team's space?
The goal of your space should be to provide the team with focus and direction, build cohesiveness, centralize information, and create a deeper connection between team members. To do this without cluttering your space and overwhelming your team, you need to be intentional about what you include and how you organize it. You can jump-start creating your space by using one of our customizable templates.
The specifics you decide to include in your space will depend on the team's unique goals and needs, but in general, there are a few main sections we recommend organizing your space with.
Team resources
One of the most valuable sections to include in your space is a spot that houses all team resources and documentation. By linking to resources directly in your space, you ensure everyone has immediate access to the most up-to-date information. Not only does a section like this save your current team time, but it also helps onboard new team members onto a project faster.
When setting up your team resources section, keep these tips in mind:
Make a list of information everyone on the team needs to access frequently—and be sure to ask for your team's input. Some common examples include agile boards, project or brand guidelines, team research, or process documentation.  
Generate a preview of the resource by copying and pasting internal links (Lucidchart and Lucidspark) or external links (including Figma files, Google documents, or Microsoft documents) directly in your space. 
Easily access all Lucid documents shared or created in your team's space by viewing Team Documents on your logged-in homepage.
For Lucid's people and culture teams, using Team Spaces to house important resources has completely changed how they operate. "Within our space, we have a central repository of documentation where we can easily align on and access all our processes, systems, and organizational updates," said Kat Judd, SVP of people and culture at Lucid. "Everyone has access to the resources they need because they're all available within the space, making it easier for us to assist employees quickly."
Team goals 
There should be no confusion as to what the team is working towards. To ensure your space helps keep your team aligned, include a section that clearly shows the team or project goals—and your plan to reach those goals. You could include OKRs, the team mission or vision, product roadmaps, important deadlines, or success metrics.
When adding in team goals and timelines, keep these tips in mind:
Add a Lucidspark template in your space to guide your team through the process of collectively determining a mission or vision.  
Include a timeline in your space to ensure everyone is aligned on key milestones and deadlines.
Insert a Lucidchart dashboard into your space to take advantage of Lucid's data-linking capabilities and keep the team updated on real-time progress toward goals.
Team tasks  
Keep your team in the loop on project status by including a work-in-progress section in your space. By providing the entire team visibility into priorities, tasks, and decisions, you'll increase team trust and allow team members to coordinate work—even as projects evolve. 
When documenting team tasks and work-in-progress, keep these tips in mind:
Create action items by using Lucid Cards. On each card, include responsibilities, due dates, description, and status.
Link to systems of record like Asana or Jira for the team to quickly reference and plan work.
Organize action items in a Dynamic Matrix to view the status of each task at a glance.
Add a parking lot for team members to leave sticky notes with ideas or questions. Team members can respond to each other asynchronously, which centralizes answers for everyone to see. 
For Lucid's sales teams, documenting progress in Team Spaces has helped reps coordinate their work and learn from each other. "At a quick glance, everyone can get on the same page and understand each other's priorities, as well as upcoming events, meetings, and training," said Keith Tanaka, SVP of sales at Lucid. "Reps can keep their team informed on how key accounts are performing and access helpful resources."
Team connection 
Your team's space wouldn't be complete without a bit of a personal touch. Provide a section for team members to get to know each other, express themselves, and share updates. Team members who don't work in office together will especially appreciate the opportunity to build morale and trust with their teammates.
When setting up a section for team connection, keep these tips in mind:
Each team will have different ways they prefer to connect, so get your team's input on what they'd like to include here. A few elements we've seen teams include are a PTO calendar, team norms, pictures, shout-outs to celebrate achievements, a quote board, or a bank of icebreaker questions.
Encourage your team to design the space to reflect your team's personality. You can add shapes, text, images, or freehand drawings to customize your space.  
Build out a team roster by dragging out each collaborator's shape into the space. Then, add titles, working hours and location, fun facts, or anything else. 
At Lucid, the ability to customize Team Spaces has helped our marketing teams inspire each other and connect in transformative ways. "Team Spaces has radically changed the way our marketing teams approach collaboration," said Nathan Rawlins, CMO at Lucid. "You can see how their personalities come through, creating a place to both celebrate team culture and facilitate productivity."
How to maximize your space's collaborative potential
Once you have your space set up and shared with all team members, follow these best practices to make it as valuable as possible for your team. 
Add structure to your space. Help your team navigate the space and quickly find the information they need by using containers to organize content.
Archive older versions of your space. You can avoid clutter and keep the most recent info handy for your team by archiving older versions of your space. Be sure to pin information that you want to persist throughout versions—like your team roster, values, and resources. 
Assign items to team members. Ensure responsibilities are clear by dragging a team member's name over to an action item or using @mentions to communicate with an individual.
Integrate with your favorite apps. Add Box, Dropbox, SharePoint, and Google Drive documents into your space to boost coordination and make your resource repository more robust.
Use Visual Activities to reach team alignment quickly. Need to quickly poll the team on priorities or just want to break the ice? Use Visual Activities directly in your space to engage the team, capture everyone's input, and view areas of agreement or disagreement. 
Centralize information and build the future faster
When you set your team's space up effectively, you're also setting up your team for success. Whether you're centralizing resources for regular Scrum meetings, keeping teams aligned in a go-to-market launch, or sharing training materials for onboarding, Team Spaces gives you what you need to propel work forward and build the future faster. 
Build with Lucid
Get more tips on how you can use Lucid to save time, collaborate efficiently, and build the future faster.
Learn more