How Lucid's HR teams use Lucid to evolve the organization
Kat Judd, SVP of People and Culture, Lucid
Reading time: about 7 min
At Lucid, our people are the driving force behind our success. We know that we wouldn't be able to build powerful software solutions without our talented and creative workforce. That's why our people and culture teams (our HR teams) are dedicated to continually supporting our people and nurturing our company values. 
To meet these goals, our people and culture teams rely on Lucid's own products to develop and document the employee journey—from brainstorming new experiences to monitoring company growth. 
Using Lucid, we can collaboratively design the right structures and processes that enable our people's best work. Here's how we do it.
Visualizing and categorizing human resources 
Our goal at Lucid is to get a clear picture of how our employees fit into the organization to make alignment, collaboration, and resource allocation easier. But as the organization evolves and scales, synthesizing areas of need and communicating changes promptly can be challenging.
One of the ways we solve this pain point is by using Lucid to create highly intelligent org charts. 
Unlike traditional org charts that are static representations of an organization's structure and departmental relationships, org charts in Lucid are dynamic and allow us to visualize changes as roles evolve, new hires join, and others depart.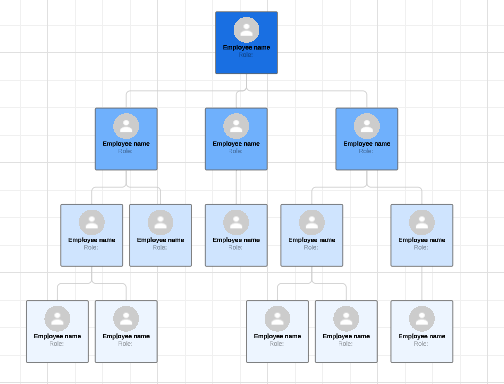 Lucid's customizable and intelligent org charts give our teams greater insight into the current employee landscape, help us identify growth opportunities, and empower us to address areas of concern. 
Here's how we create an org chart with Lucid: 
We export a CSV file from the HRIS system. 
Then, we import the file into Lucid to automatically create an org chart (no manual data entry needed).
Next, we create groups based on departments. 
We then add conditional formatting rules to spot organizational changes. We can also set roles, titles, and levels of seniority. This formatting allows us to visualize who is who and where they fit into the organization. 
The final document can act as a single source of truth for the entire organization. Because org charts are a living document, we can easily add, edit, and update data so we always have the best information to reference. We can refresh the data with the click of a button, replace the current data set with a new one, or even overlay a new data set on top of an existing one to compare org structures.
Documenting and communicating procedures 
It's important that we keep all of our employees in the loop on any changes or updates to workplace policies or procedures. However, HR processes—including onboarding new employees, planning events, mapping career progression, and developing policies—can be complex and highly cross-functional.  
It is a real challenge to communicate handoffs, roll out initiatives on time, and keep leaders and their teams up-to-date and aligned on expectations, policies, and responsibilities.  
That's why we use Lucid to streamline processes, documentation, and communication to keep everyone on the same page. 
For example, here's what we do to document and streamline our onboarding process: 
We use a custom template to map out the pre-hire and onboarding process. This ensures alignment across teams so that everyone has a unified (and positive) experience. 
We then share the doc for feedback. Lucid makes it easy to share documents with other team members. Stakeholders can follow along and recommend additional steps in the process directly on the Lucid document. We can iterate and implement feedback to continually improve our processes over time.  
We visualize milestones and timeline dependencies. Our teams can then monitor changes, make adjustments, and finalize all the documentation in one place to create one central station of success. 
Our teams also use Lucid to create timelines in Lucidspark that map critical employee career progression milestones throughout the year. These timelines allow us to stay on top of key events, mark special occasions, and identify opportunities to further support and engage employees in their professional development at Lucid.
In addition to onboarding, we use Lucid for documenting many different processes, including our visa/immigration process and steps for proposing new employee programs. 
Visualizing processes helps with organizing training, resources, and other supporting functions. And these initiatives give employees a clear path to career advancement that they can reference and build on. 
Facilitating people development, learning resources, and training 
Lucid employees are encouraged to learn and develop on an ongoing basis. To prioritize professional development, we rely on easy-to-use training resources and employee workshops that help our teams expand their skill sets, knowledge, and expertise.
But at any scale, employee educational programs can take a lot of resources to plan, develop, and execute. That's why we use Lucid to help our HR teams simplify people development and training. 
Through the power of visual collaboration, our teams create easily digestible resources for our employees to engage with. Whether we start with one of Lucid's many customizable templates or build from scratch, we can always use robust integrations and other indispensable features to streamline professional development plans.
These are just a couple of the ways we use Lucid to facilitate better development and growth pathways for our employees: 
1. We create a learning program guideline in Lucidspark. 
With Lucidspark, our team can create interactive and engaging programs that lead our employees through all the information they need to understand the topic clearly, including high-level overviews of essential learning goals and objectives. 
Participants can even see previous class recordings, submit and view attendance, and get to know fellow cohorts directly on the board for an immersive and interactive experience with Visual Activities. 
We love this functionality in Lucid because it allows us to not only create great learning experiences for our employees, but it also simplifies program development and maintenance by keeping all the information and resources in one place.  
2. Create and share a custom career development template.
Our HR team also provides employees with a career development template that lets them easily record goals, track career progress, and visualize a plan for success. 
This is a great way for HR to support employees in their development. Plus, it gives managers and other people leaders a consistent frame of reference to track employee progress, check in during 1:1s to identify opportunities to support their employees' goals, and mark key employee milestones and achievements. 
Lucid provides a platform to brainstorm, ideate, and implement immersive learning experiences. With Lucid, scaling and supporting our employees' growth and development is easy.
Why our HR teams love using Lucid
Lucid allows us to cultivate a talented and knowledgeable workforce by brainstorming new workplace experiences, monitoring growth, and launching processes crucial for employee management and success. We love using Lucid in our daily workflows because it helps us:
Maintain compliance: Lucid's robust documentation capabilities enable us to stay on top of compliance requirements. By keeping documentation up-to-date and readily accessible, our HR teams can effectively prepare for audits and ensure adherence to regulatory standards.
Align with cross-functional stakeholders: Our HR teams use Lucid as a central hub for collaboration and communication. We can capture input from cross-functional stakeholders, present information to executives, and assign tasks seamlessly within the platform. This alignment facilitates effective teamwork and ensures that everyone is on the same page when it comes to important HR processes and initiatives.
Make confident, data-driven decisions: In Lucid, we can visualize comprehensive information and analytics, enabling us to make well-informed, data-driven decisions quickly and confidently. Having the right insights readily available empowers Lucid's HR professionals to address challenges, seize opportunities, and drive positive outcomes for the organization.
With Lucid's extensive template library, customizable features, data integrations, and more, HR teams like ours can also unlock powerful insights for their workforce, develop streamlined processes, facilitate employee development, and drive success—all from a single, comprehensive platform.
Discover how your HR teams can use Lucid to evolve your organization.
Learn more
About the author
Kat joined Lucid in 2017, having spent more than a decade in management-side employment law. She was previously a shareholder and director at Clyde Snow & Sessions with experience in preventative advice and counsel, workplace investigations, and employment law training. She holds a B.S. in business administration and management from Brigham Young University and a J.D. from the University of Utah.