The complete toolkit for asynchronous collaboration
Reading time: about 10 min
While many organizations would like to reduce the number of meetings they have, activities like brainstorming, giving a project update, or getting teammates up-to-speed on complex topics (like architecture or processes) are hard to do asynchronously—if you don't have the right tools to do it. 
After all, not all meetings can be covered in an email. So how can you keep your team on the same page without communicating in real time? 
The key is visual collaboration. 
Visuals help people understand information faster, communicate complex ideas more clearly, and create documentation naturally. So whether you need to create alignment with your team, brainstorm ideas, or share project updates, visual collaboration can get the job done—no meeting required. 
To help you get started, we've put together a toolkit of essential templates you can use to collaborate visually with your team anytime, anywhere.
Need help determining what work should be done in real time versus asynchronously?
Check out our tips
Templates for aligning your team
Before you can successfully work asynchronously, you need to align on how you will work together. Collaborate with your team to establish agreements for things like what tools you will use, how you'll make decisions, and ways you'll measure your success. 
These guidelines will ensure everyone knows what to expect and how to communicate to minimize misunderstandings, streamline the work, and stay on the same page.  
Asynchronous team charter 
Document your decisions, standards, and resources in a team charter, so everyone can reference it and new team members can get up to speed quickly. 
Tip: Embed external resources like Google Docs, Figma files, and more directly into your charter to centralize your team resources.  
Mission alignment 
If you don't know why you're here or what you're building together, it will be difficult to work successfully—asynchronously or otherwise. Clarify your team mission and align on what drives your group with this mission alignment template. Together you and your team can answer core questions like "What do we do?" "How do we do it?" and "Who do we do it for" all in one place to help you develop a shared mission.   
 
Org chart by location
Many teams today are distributed across the globe. That means when working asynchronously, you may be collaborating with people in different locations and time zones. To keep track of where (and when) everyone is working, use an org chart that maps people across the organization by both role and location. A shared visual org chart will help you orient new team members quickly and identify the right people to invite to your next collaboration.  
Tip: With Lucidchart, you can automatically import data from your system of record to quickly generate your org chart, then use features like Group View to view members by custom groups. 
Templates for gathering project feedback asynchronously 
When relying only on meetings for feedback, it's easy to miss or forget what was said. Plus, it's inefficient to wait until a scheduled time to get feedback on ideas, projects, and plans.
Asynchronous collaboration lets you loop in stakeholders without trying to find a meeting time that works for everyone. It also allows reviewers to dive in deeper and provide feedback at their convenience—saving time and resulting in better feedback.
By using visual collaboration for async work, you can capture feedback in the appropriate context. For example, in Lucid, a reviewer could attach a sticky note or comment directly to the area they're providing feedback on instead of trying to explain it in a written message. This makes it easy to see what the feedback is referencing and how it fits into the project as a whole.
Get feedback on everything from ideas and project plans to process proposals, technical diagrams, or designs in Lucid. Below are just a few templates you can use for common use cases.
Homepage wireframe 
Working on a website design project? Get feedback on a mock-up or design with this annotated wireframe template. 
Tip: Tag team members in a comment directly on the layout to draw their attention to the right areas and provide clear context for your feedback.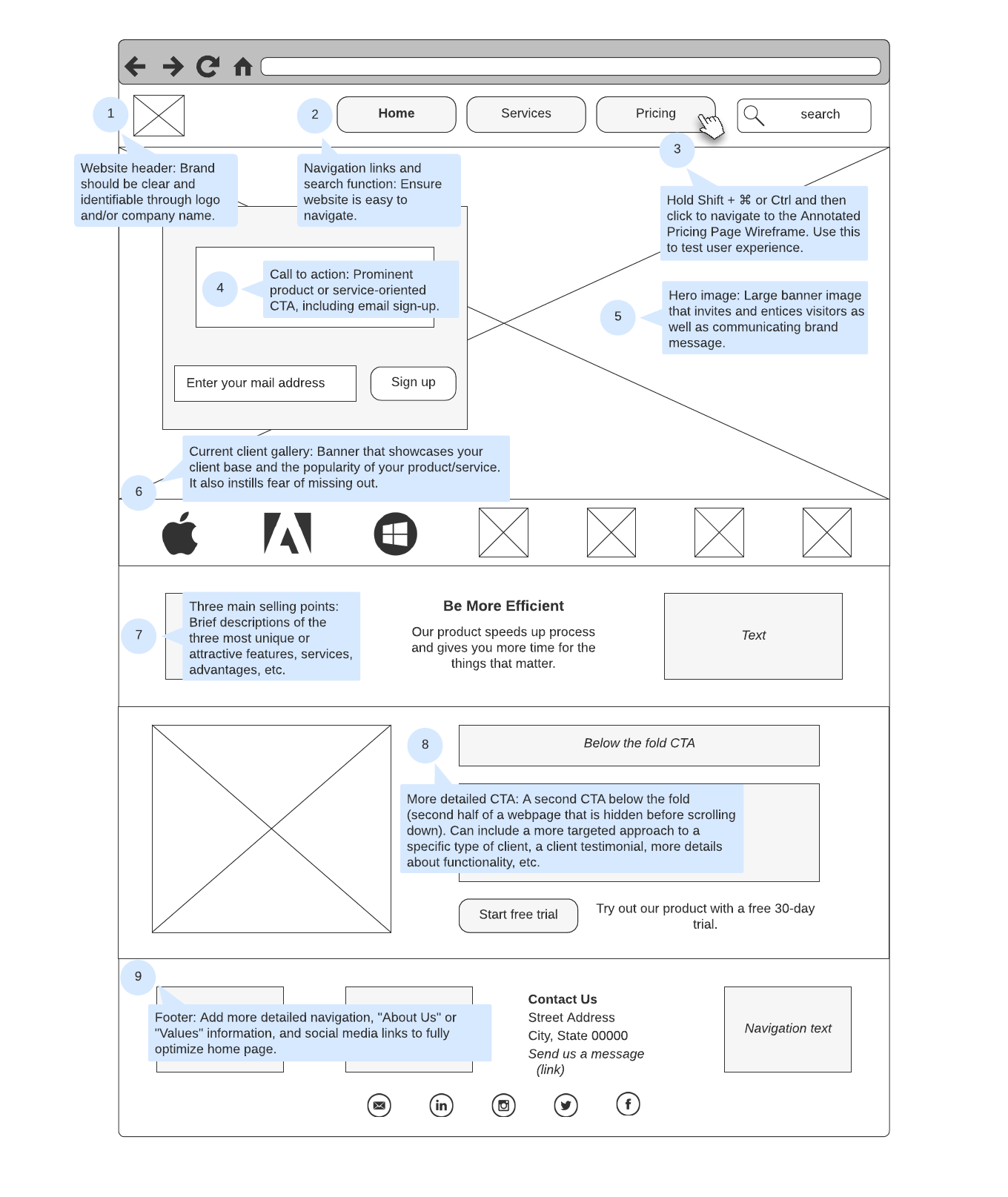 Decision making matrix 
Considering multiple options? Get input from others before making a decision. A decision making matrix is a visual aid that walks you through the decision-making process by plotting out each option, assigning values to assessment factors, and generating scores so you can evaluate your decision from every angle.
Business process map example 
Launching a new process? Get feedback on a plan for a new or improved process by sharing it asynchronously with stakeholders. This business process map example template lets you visualize the steps of a custom process and better understand the flow of work.
Tip: Use Frames and Paths in Lucidspark to focus a reviewer's attention on key areas you want to highlight or get further insight on. Simply draw a frame around a specific area on the board for team members to reference. You can even create a shareable link to the frame to direct reviewers directly to the frame. Then create a custom path, leading reviewers through the map in the order you want them to follow. 
Templates for launching a brainstorming session asynchronously 
Save meeting time by starting a brainstorming session asynchronously—giving participants a chance to research, prepare, and add ideas to a board ahead of a discussion. Then you can use real-time collaboration to discuss ideas and prioritize next steps. 
This is a great way to allow different contributors—like those that need more time to think through ideas—a more equal chance to participate, helping you truly capture all the best ideas.
By using visual collaboration for this entire process, you'll have everything documented in one place, making it easy to reference the ideas and decisions made.
Spark better ideas faster with our guide to effective brainstorming.
Asynchronous brainstorm
Get the benefits of a team brainstorming session with the flexibility of asynchronous collaboration. Use this template to hold a brainstorming session for a set window of time (a few hours, days, or longer).
Breakout Boards for each team member provide space for everyone to follow the ideation prompts and add ideas on their own time. Then come together to review and synthesize the results.  
Tip: Keep track of who contributed what by designating a color for each collaborator. Participants can also respond to each other's ideas with emojis or comments. Record any items discussed in real-time directly in the board in Notes Panel or as stickies, so it's easy to switch back to asynchronous work after.
Product design brainstorm template 
Kickstart the product design process with an async brainstorming session in Lucidspark. Brainstorm features for a new product design, organize and vote on the ideas, and visualize the user flow. Then bring it all together to create a user journey and wireframe in Lucidchart. 
Tip: Import any existing Lucidchart diagram into Lucidspark to easily brainstorm off of technical concepts like architecture diagrams or process flows.
Reverse brainstorming
Reverse brainstorming focuses on the problem rather than the solution. So, for example, instead of asking how you can create a great product, you flip the question to what would make that product bad. You can then use those ideas and reverse them to come up with viable solutions to your initial goal. Have your team add their ideas to the shared board asynchronously—then come together in real time to discuss the results.  
Tip: Use organization features like Dynamic Matrix, Tag, and Sort to help you make sense of ideas, plan your work visually, and take action quickly. 
Templates for providing status updates asynchronously
Status updates can be some of the biggest time sinks on our calendars—but they are a necessary and important piece of project management. Thankfully, more often than not, the information can be conveyed without a meeting. Transform those weekly status update meetings from a 30-minute snooze-fest into a living project document that team members can reference whenever they want. 
Agile board
Agile projects are fast and flexible by design. Using a visual agile board template keeps the work flowing smoothly by syncing work across teams through clear task delineations and assigned roles. 
Tip: Lucid integrations with tools like Slack, Jira, and Smartsheet ensure that project updates show up on both ends, directly where teammates work.
Project status summary
Keep stakeholders informed on a project's status, track who is accountable for each task, and document clear timelines with this template—all without a meeting.
Tip: Use conditional formatting in Lucidchart to set rules that automatically show you the status of different projects. For example, you can trigger specific icons or text badges to appear on a task when it is in progress, overdue, or complete. 
OKR planning chart example
Use this OKR planning chart template to track your team's performance against your OKRs, make informed decisions, and keep the team aligned asynchronously.  
Tip: Notice something falling behind? Use comments and @mentions to draw stakeholders' attention to where it needs to be on the board to ensure your project stays on track. 
Templates for planning projects or events asynchronously 
Project planning requires multiple tools, teams, and workflows—so managing that process remotely can be daunting. But using a visual space to plan projects and events enables cross-functional teams across time zones to align on all the moving pieces (like timelines, dependencies, and stakeholder involvement). 
Plus, planning asynchronously creates persistent, living documentation that everyone can reference as needed. Now, instead of losing key context on a project if you miss a meeting, you can simply jump into the planning board to review your team's progress and follow conversations, comment threads, and even video explainers, so you're always up to date.  
Check out all project planning templates to keep your team on track. 
Project planning canvas
Visually plan your projects and keep all the project details in one place for a streamlined process. Use this template to set goals, identify KPIs, determine deliverables, and set a project timeline.
Event brief
Planning a big event? Track all the moving pieces and keep stakeholders updated on key details with this template. Visually outline who is invited, venue parameters, registration details, goals, cost estimates, and more. 
Tip: Integrations with video apps like Loom and CloudApp let you record a quick project explanation over any Lucidchart doc or Lucidspark board. 
Project timeline
Map out your project's key deadlines, events, milestones, and dependencies on a visual timeline. This template provides an at-a-glance view of your project's progress so you can quickly see what needs to be done. Team members can move tasks from "In Progress" to "Done" as they complete work, so everyone has an updated view of the project at any given moment.
Tip: Lucid Cards integrations let you automatically sync project details to your project management software so you can move seamlessly from the ideation to the planning stage.
Using visual collaboration for asynchronous work
The real power of visual collaboration is that it's not just an asynchronous work tool. Visual collaboration is a bridge that helps you transition seamlessly between real-time and asynchronous work. This makes it easy and efficient to move from idea to reality, no matter where you're working—or when. 
By using visual collaboration to work asynchronously on these activities, your time spent in meetings will also be so much more efficient, productive, and impactful. 
Learn how to build a complete asynchronous collaboration strategy.
Get the guide